Timber Talkers is a Beaverton-based club that has been around since May 1st, 1996. When people visit our club, they always comment on how supportive and friendly we are. We tend to agree. Please stop by if you are interested in developing your oral communication and/or leadership skills.  We are part of District 7, Division H, Area 93.
Member Spotlight: 
---
Steve Schmitt: When he is not public speaking, Steve Schmitt accompanies his Cavalier Spaniel, Sadie, on her outdoor adventures.
---
Jennifer Anderson is the author of the Amazon Bestseller for career advice: "Plant Yourself Where You Will Bloom." Jen has spent the last 15 years teaching thousands of people the concepts of how to create a thriving career and discover their perfect work. An "Early  Settler" of the professional coaching industry and a Professional Certified Coach, Jennifer is a trainer at Coach University, a faculty member of Portland Community College, and the University of California at Davis – Extension. Jennifer is a mother of two and a ridiculously proud grandmother of one. She is also an avid fan of University of Kansas Basketball. Rock Chalk, Jayhawk! Please visit www.jenniferanderson.com for more information.
---
Kristin WT: Kristin has been in Toastmasters since 2010. She is currently 
completing her first Competent Communication manual. A coworker invited her to her first Toastmasters meeting to watch her speech.After that she saw two people at work with varying levels of speaking skills and appreciated the more experienced speaker. That was the impetus she needed to start looking for a club she could attend. She enjoys the myriad of interesting speeches brought to the club.
---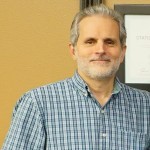 Terry Wood joined Timber Talkers in Oct 2014. He regularly teaches classes on Trauma Releasing Exercises (TRE), which requires him to be in front of people for over an hour in each class. Toastmaster's has been invaluable to him for polishing his presentation/speaking skills.  To learn more about TRE please go to www.treclasses.com.
---
Hilary Lang Greenebaum, PhD: Despite a lifetime orbiting K-12 schools, Hilary still gets excitedly nervous when giving a prepared speech. Toast Masters, Timber Talkers specifically, helps her remain more relaxed. She really enjoys the group, learns a lot, and has fun! The rest of the week, Hilary runs the family business, Howard Insurance, selling insurance for people with Medicare. She also advocates and teaches people how to transition to a healthy, plant based lifestyle. She created, Better Eating for Life an online educational video program that advocates a healthy vegan lifestyle that includes exercise and stress reduction. In her spare time she likes to eat (!!!), read, garden, walk with her two adorable dogs, and have fun with friends.
---
Scott Chavin: Having been with Toastmasters for close to seven years I have enjoyed the many benefits it brings.  Beyond the benefits of public speaking and leadership training I have been able to make many personal and business connections.  Joining the Toastmasters family has allowed me to develop a better connection to my community at large.  If you are interested in learning to better yourself in a safe and friendly environment then you have come to the right place.  Please join our diverse and open club.  You'll be glad you did.
---
Tom Cronkrite: Tom likes to garden as you can see by the large potato he is holding! Below he is addressing the group (probably discussing corn or tomatoes!)  in December 2015.
---
Christopher Aedo: Christopher moved to Portland from Los Angeles in 2014 but asks that you not hold that against him.  He has two boys and an amazing wife and in his spare time he reads, brews beer, builds things and is on a quest to learn how to do everything.
---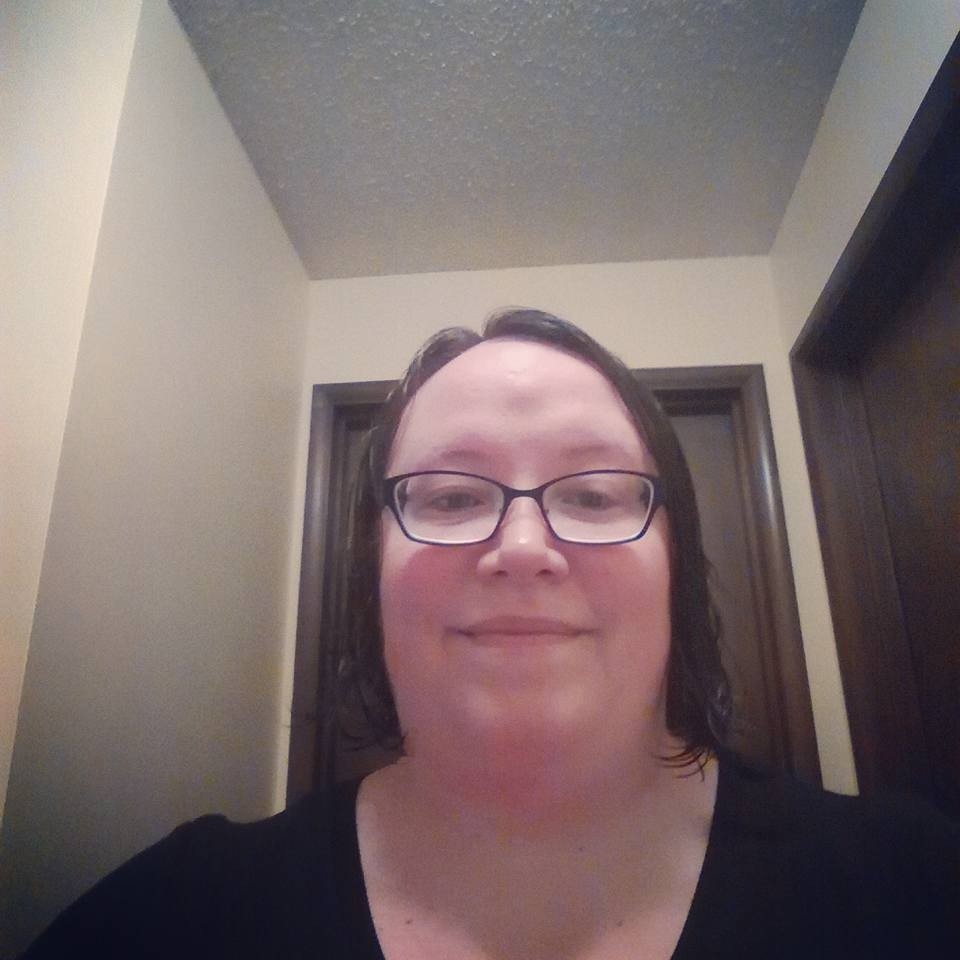 Mandi Montplaisir: Mandi joined Timber Talkers and Toastmasters in January 2017 to build her speaking and communication skills. Her interests include healthy living, Zumba, business, gardening, traveling and reading. Most days she is managing the roles of wife, mother, and small business owner with agility and deftness.
---
Leissa Gebert has rejoined Timber Talkers after a five year hiatus. She is a past President and VP of Membership. Leissa recently retired from a 40 year career as a mortgage broker and is now developing an internet based business to educate folks on how to prepare for and get their best home loan possible. She does a lot of video work in her business and finds that being a Toastmaster is a huge help in being comfortable (and coherent!) in front of the camera. To balance out her life; Leissa finds enjoyment in being a watercolor artist, hanging with her two beautiful Rhodesian Ridgeback dogs and the occasional travel with friends. She is a transplant from Montana; but has been in Portland since 1982; which she figures probably qualifies her for native status.
---
Dave Hiller is a 59 year old transplant from Minnesota that lives in Tigard for the past 19 years and
married to Mina for 23 years. Has one dog named Chance that came to us from Oregon Dog Rescue 6 years ago. Working for Delta Industrial Automation in sales. Toastmasters DTM, past club officer, past area governor, past division governor, past district office including District 7 Governor in 1995-96.
---
Bret was born in Bend OR and moved to Southern California when he was 2 years old. On New Years Day 2017, in the middle of the worst winter in 35+ years, Bret moved his family up to Portland.
Bret joined Toastmasters back in 2011 for a couple years, and because of his schedule changing, he can now join again.  After going to a couple clubs, he found Timber Talkers and joined immediately.  He is looking forward to grow as a speaker and be more comfortable with both formal and informal speaking.
---
Morgan Roe is the founder and owner of the Zeitgeist Academy, an organiza
tion dedicated to individual musical empowerment and support of community musical organizations.  She joined Timber Talkers in September 2017 after realizing how much public speaking she will be doing in her business!  Native to Montana, Morgan spends her free time dancing and making music.  She also travels extensively for work and pleasure.  For more information on the Zeitgeist Academy, visit www.zeitgeistacademy.com.
---
Chelsea is a born and raised Oregonian who joined Timber Talkers in 2018. Professionally, she is a member to hone her storytelling and own her message as she develops her business and project consulting at CJMcWest.com. Personally, she enjoys hearing others speak and learning from not only what people say, but how they say it. She is a mom of two humans and one dog and married to a very patient man who listens to more practice speeches than is fair.
---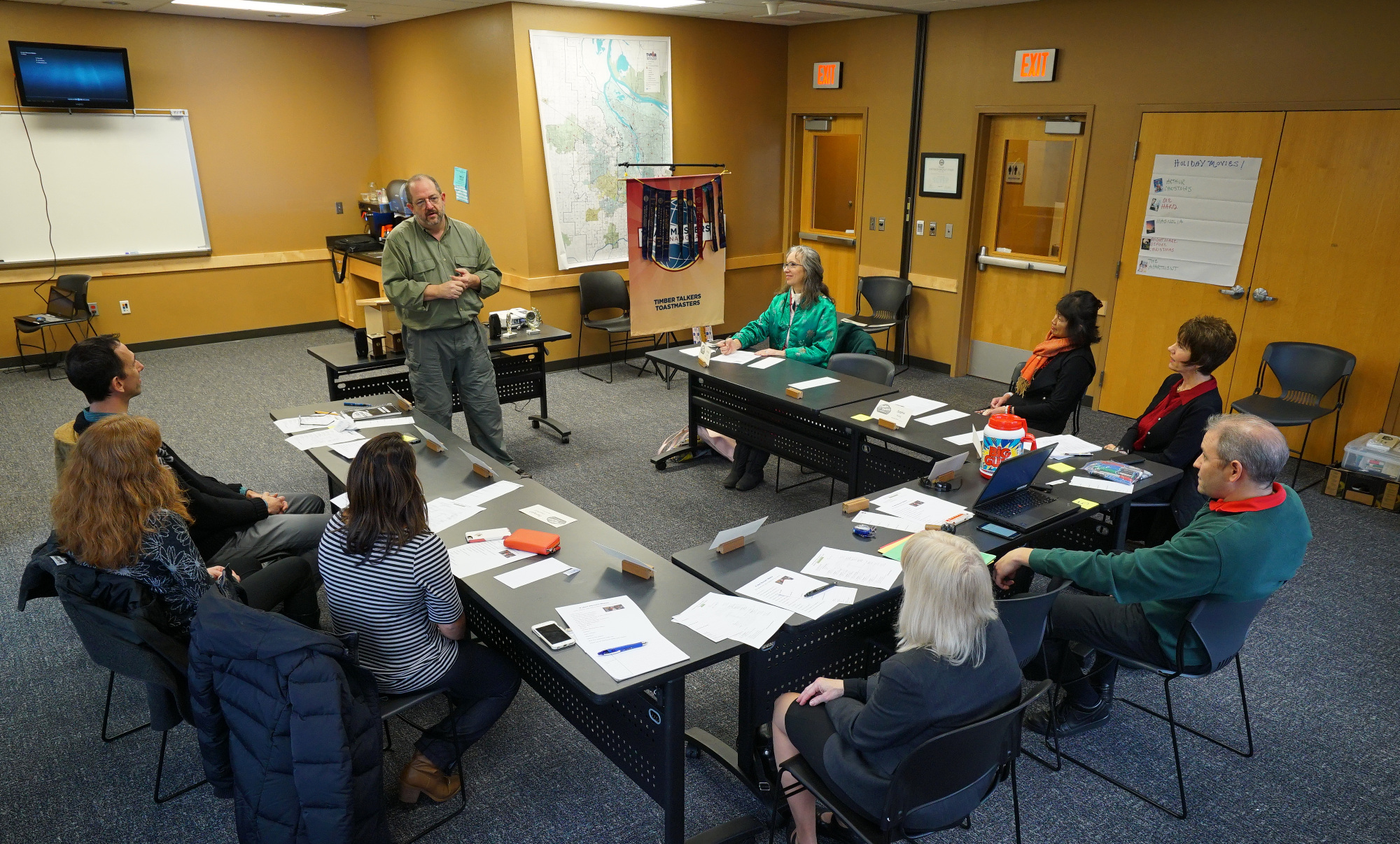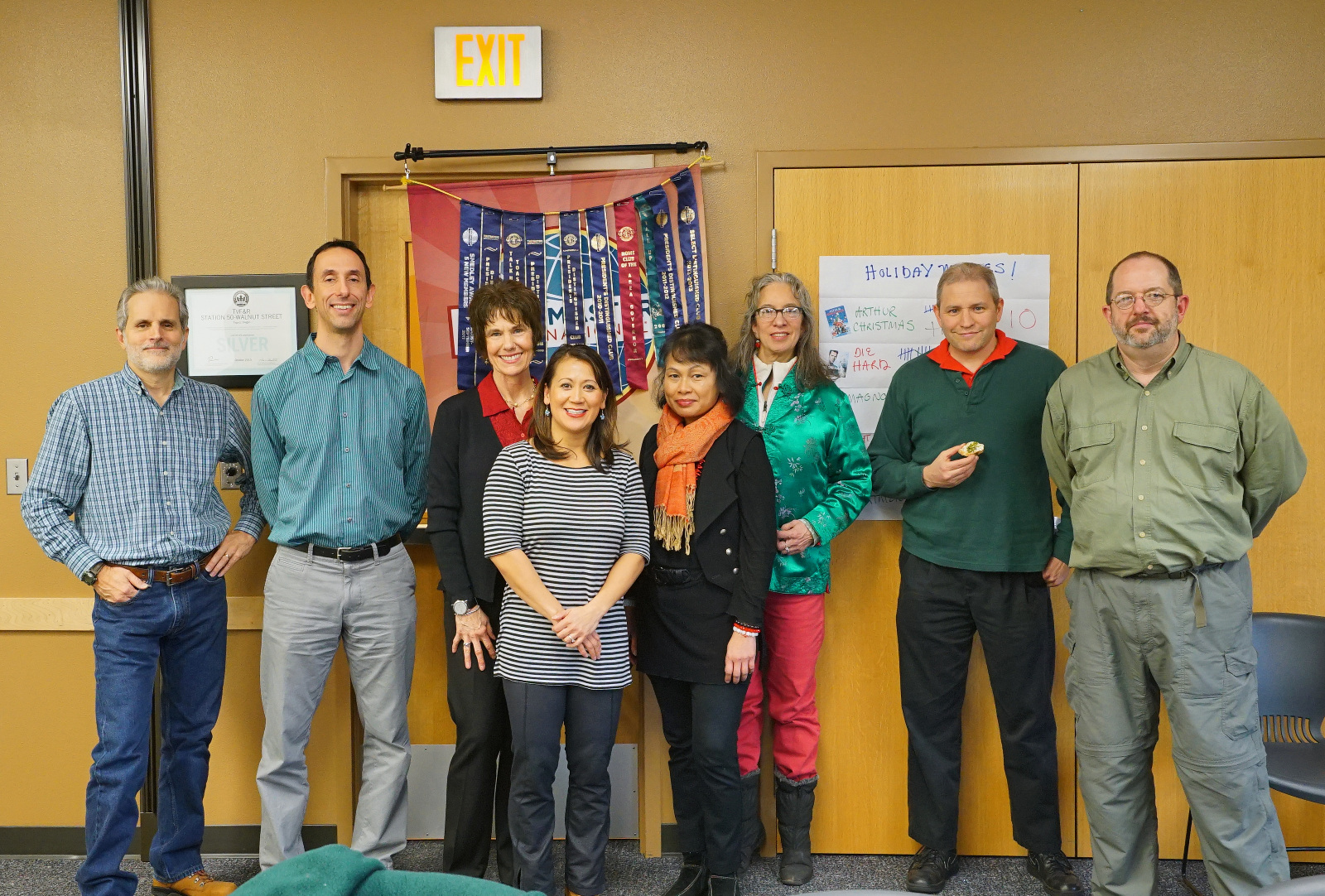 Group photo at our Holiday Meeting 2015, our meeting theme was "Holiday Movies"!
Left to Right: Terry, Steve, Hilary, Parisjat, Sopha, Kristin, Scott, and Tom
We are club #4421 in Toastmasters International. 
Annually, we compete in Area 93 competitions, District #7.
The names "Toastmasters International," "Toastmasters," and the Toastmasters International emblem are trademarks protected in the United States, Canada and other countries where Toastmasters clubs exist. Unauthorized use is prohibited.